Western Section AUA  -  99th Annual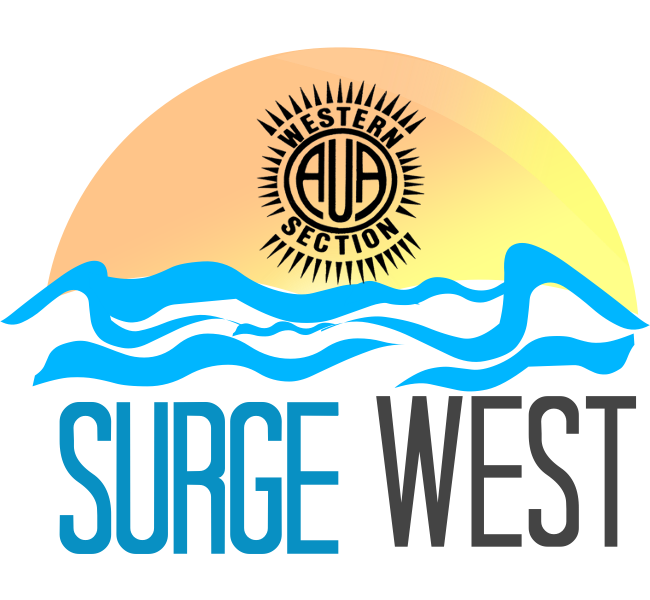 Meeting
Everline Resort - Lake Tahoe, CA (formerly Resort at Squaw Creek)
October 1-5, 2023
WE ARE CURRENTLY SOLD OUT
Reserve Your Exhibit Space Now

@The ExpoLab




Networking & Discovery Lounge



WsAUA Exhibition at The Everline Hotel Lake Tahoe, CA

---
Build new business and relationships in a relaxed and collegial setting
that stimulates interaction and learning
For exhibit availability or other support, please contact Jeannie via email or call 714-550-9155, x6

---
Preliminary Exhibits Floor plan- click here to open PDF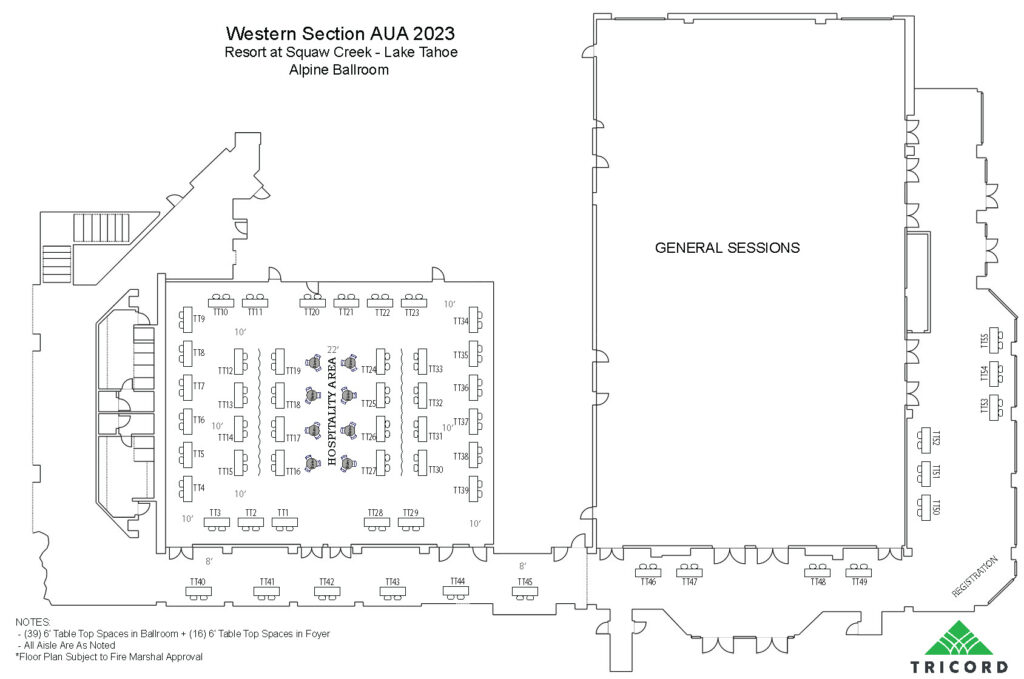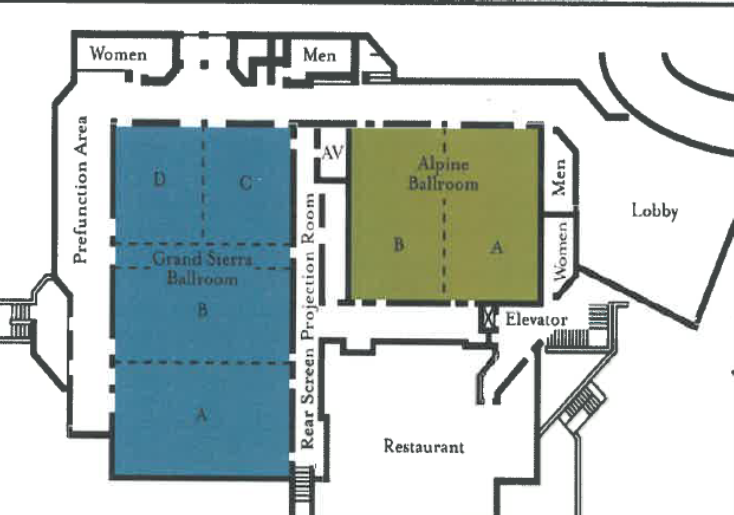 Exhibit Area

The exhibit area includes the Alpine Ballroom and prefunction areas from the Alpine Ballroom to the Grand Sierra Ballroom where the sessions are held. All displays will be table-top style in that there will be no pipe and drape used between spaces at the show.  Booth price includes identification sign, two chairs, one 6' draped table and waste basket.
The exhibit area is carpeted and is centrally located adjacent to the main session's room in the Grand Sierra Ballroom. The flow to the entrance of the exhibit hall will be from the pre-function area of the Alpine Ballroom. Doors will be locked after hall closes and 24-hour security will be on patrol. The exhibit service company will provide more information in the service kit that will be sent 2 months prior to the show.
The Scientific Sessions will be held in the Sierra Grand Ballroom adjacent to the Exhibits area which will feature a vibrant hospitality lounge and networking environment. There will be plenty of activity in the Exhibit areas including breakfast, refreshment breaks, afternoon "Happy Hour" and great traffic building promotions to get the energy flowing.
Registration
Complete details on registration, travel and hotel accommodations will be sent via email along with the program brochure as soon as available. The Western Section AUA meeting web site (www.surgewest.org) contains important updated information. Company representatives may register for optional sports and social events using forms to be mailed or online. Badges will be issued on-site for exhibitor registration with identification of company affiliation.
Target Audience
Attendees include practicing urologists, residents and allied health professionals (APP, NP, PA) primarily based in the western US (90%) within the geographic boundaries of the WSAUA. We expect over 350 urologists and 50 allied health professionals.
---
Exhibit rental includes the following:
All premium locations in a more intimate environment
A themed hospitality zone to enhance interaction and good vibes
One 6' draped table, company I.D. sign, two chairs, waste basket
Standard power supply (not suitable for heavy equipment)

Registration and badges for up to three reps per space reserved.
Daily exhibit hall food & beverage and hospitality
Admittance to General & Scientific Sessions
Listing in Meeting App, Web site, Show Directory and Program Book
Attendee Roster and Mailing List, Meeting App for Lead Retrieval
24 Hour Exhibit Hall Security
Greeters, Promotions and traffic builders
Access to group room block and room rates
Symposium & Sponsorship
Symposium slots and support/advertising opportunities available!
Email us for details or call Jeannie at 714-550-9155.
Eligibility Policy
All applications for space are reviewed to ensure they meet WsAUA eligibility policies. WsAUA reserves the right to refuse or cancel all ineligible exhibit applications at any time and shall not be responsible for any incidental costs associated with this cancellation. Please refer to the Conditions for Exhibiting for more information.
Checks payable to Western Section American Urological Association.
Please mail to: 1950 Old Tustin Avenue, Santa Ana, CA 92705.
Please call us at 714-550-9155 or email info@wsaua.org to confirm your participation.
Tax ID 95-6051202
(click here for W-9 form)
For rates, exhibit availability, symposia, or other support, please contact Jeannie via email or call 714-550-9155
PRELIMINARY EXHIBIT SCHEDULE
Alpine Ballroom & Prefunction Area
revised 7-26-23
 

| | |
| --- | --- |
| For 2-Day Exhibitors – Sunday/Monday | |
| Sunday, Oct. 1 | |
| 8:00 AM – 9:30 AM | Exhibit Table-Top set-up in Foyer (company name will be on table) / Registration |
| 9:30 AM – 4:30 PM | Exhibits Open |
| Monday, Oct. 2 | |
| 9:30 AM – 5:15 PM | Exhibits Open |
| 9:30 AM - 10:15 AM | Networking Break in Expo areas with attendees |
| 3:15 PM – 5:15 PM | Happy Hour in Expo areas with attendees |
| 5:30 PM | Break down / Move-out (table will be used the next day for other exhibitors) |
| | |
| 2-Day Exhibitors – Tuesday/Wednesday | |
| Tuesday, Oct. 3 | |
| 6:30 AM – 7:30 AM |  Exhibit Table-Top set-up in Foyer (company name will be on table) / Registration |
| 7:30 AM – 12:00 PM | Exhibits Open |
| 7:00 AM – 8:00 AM | Networking Breakfast in Expo areas with attendees |
| 10:15 AM – 11:15 AM | Networking Break in Expo areas with attendees |
| 12:00 Noon | Exhibits close for lunch break (or you may stay at your table) |
| 3:30 PM – 5:30 PM | Exhibits re-open for Happy Hour in Expo areas with attendees |
| Wednesday, Oct. 4 | |
| 8:00 AM – 12:00 PM | Exhibits Open |
| 8:00 AM – 9:30 AM | Networking Breakfast in Expo areas with attendees |
| 12:00 PM | Exhibits Close / Move-out |
|   | |
| 3-Day Exhibitor Schedule – Mon/Tues/Weds | |
| Sunday, Oct. 1 | |
| 5:00 PM – 9:00 PM | Exhibitor Arrival / Registration / Move-in - Set-up in Ballroom |
| Monday, Oct. 2 | |
| 7:00 AM – 9:30 AM | Exhibitor Arrival / Registration / Move-in - Set-up in Ballroom |
| 9:30 AM – 5:15 PM | Exhibits Open |
| 9:30 AM – 10:15 AM | Networking Break in Expo areas with attendees |
| 3:15 PM – 5:15 PM | Happy Hour in Expo areas with attendees |
| Tuesday, Oct. 3 | |
| 7:30 AM – 12:00 PM | Exhibits Open |
| 7:00 AM – 8:00 AM | Networking Breakfast in Expo areas with attendees |
| 10:15 AM – 11:15 AM | Networking Break in Expo areas with attendees |
| 12:00 Noon | Exhibits close for lunch break (or you may stay at your table) |
| 3:30 PM – 5:30 PM | Exhibits re-open for Happy Hour in Expo areas with attendees |
| Wednesday, Oct. 4 | |
| 8:00 AM – 12:00 PM | Exhibits Open |
| 8:00 AM – 9:30 AM | Networking Breakfast in Expo areas with attendees |
| 12:00 PM | Exhibits Close / Move-out |