Western Section AUA  -  99th Annual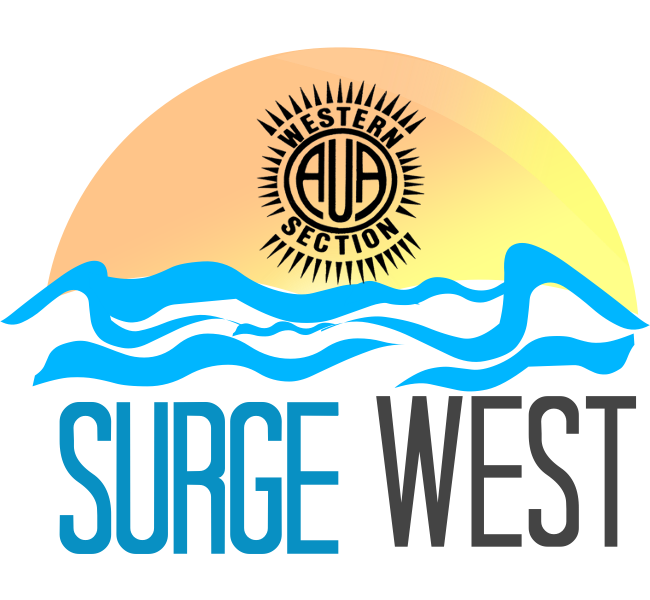 Meeting
Everline Resort - Lake Tahoe, CA (formerly Resort at Squaw Creek)
October 1-5, 2023
WSAUA Annual Meeting
Presentation Submission Instructions & Guidelines
See below for abstract, poster and video preparation as well as guidelines for presentation file submission, tips, terms and policies.
Click here for Essay instructions.

---
We have expanded our submission topics and are now accepting abstract submissions for the following:
Urothelial cancer of the Bladder, Kidney and Ureter & Urinary Diversion
Pediatrics
Incontinence/Pelvic Floor/ Neurourology/BPH
Testicular & Penile Neoplasms
Calculi
Kidney Neoplasms (excluding urothelial) and Renal Transplant
Sexual Medicine & Infertility
Prostate Cancer
Health Policy / Data / Quality Improvement
How I Do It / Round table
Video Submissions
Essays contests: Resident/Fellow, Physician, History and Health Policy
You may present your paper in one of the following formats:
Podium or Poster / Poster Only / Round Table / Essay Contest / Digital Video.
---
General Abstract Preparation
The abstract should be informative and detailed. It must contain – objectives, methods, results and the conclusions. It is NOT acceptable to state that "the results will be discussed." - See abstract sample below
When adding your Abstract text, it is easiest to copy and paste straight from a Word document following the prescribed format. You may add tables and images as permitted within the system text editor/toolbar functions.
The size of the abstract body is limited to 350 words max - if the word count goes over, your abstract will be marked as incomplete.
Images may be uploaded but you must count each as 30 words toward your 350 word max. For example, by adding one image you would adjust the count to a 320 word max.
Title and authors will be added automatically and are not part of the word count.
REQUIREMENT: If there is a funding source, this must be disclosed in the submission process. This data will automatically be added by the system at the bottom of the abstract so you do not need to also type it into your abstract.
If submitting an essay, both the one page abstract AND essay manuscript are due at time of the abstract deadline.
If submitting a video, submit a short descriptive abstract with objectives.
You can amend your abstract as needed until the deadline.
---
Sample Abstract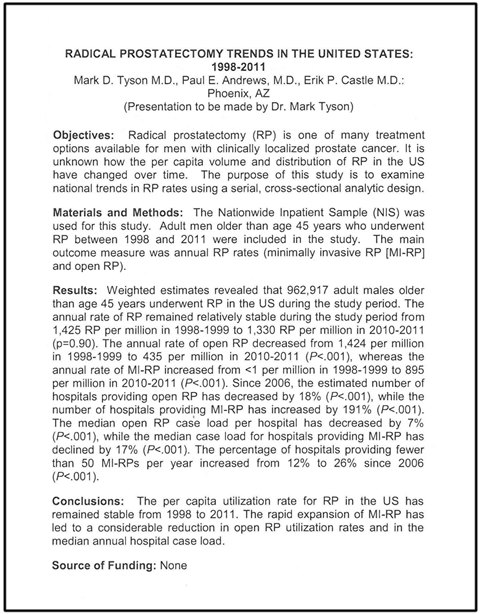 ---
Video Surgi-Session Submissions - must be uploaded with abstract

Submit your video for consideration on the program! There will be a special video Surgi-Session. Presenters must submit an abstract and the video by the deadline using our abstract submission process.
Video formats to use: .mov / MP4 / wmv files.
Video submissions should be less than 10 minutes and Microsoft Windows PC compatible.
For Abstract book, please an abstract with at least the basic info.
All video's will be tested and stored for presentation. You will NOT be permitted to use your own computer at the time of presentation.
Upon arrival to the meeting, please check-in at the Slide Preview Room to be sure the video has been tested and labeled as ready. Please bring a copy of your video to the meeting.
---
Poster Session Submissions

Posters are designed to permit the author of a technical paper to explain and illustrate concepts, techniques or research findings in a simple graphic manner that will promote understanding more readily than a "rapid fire" podium address. Presenters will be sent instructions upon acceptance.
Those selected for a moderated poster session will present a 2 minute podium presentation along with one PowerPoint summary slide. Those selected for an unmoderated poster session will hang their poster for all day viewing on Sunday, but will not have a formal presentation.
BOTH MODERATED & UNMODERATED POSTER SIZES will be approx. 44″ wide by 44″ tall (usable area of poster). Design the poster(s) to explain and illustrate concepts, techniques or research findings in a simple graphic manner. (See sample design below)
POSTER POSITION – 2 POSTERS PER BOARD
---
PowerPoint File Submittal Instructions
NOTE: WIDE FORMAT SCREEN (16:9) USED DURING SESSIONS
Send your PowerPoint presentation file by the deadline via our file upload utility.
All files received will be loaded into a Windows PC where they will be tested and stored for use in your presentation. You will NOT be permitted to use your own computer at the time of presentation.
Minor adjustments to your presentation may be made on-site at the Slide Preview Room no less than two hours in advance of your presentation time. Please do not attempt to update your file in the session room.
MAC Users: Please be sure your file can be opened on a PC. Some early versions of PowerPoint may not be compatible.
Short embedded videos are permitted, however, will be subject to output testing. Please be sure your video file is included or combined with the PowerPoint file so it will work on our computer.
Upon arrival to the meeting, please check-in at the Slide Preview Room to be sure we have your file loaded and status as ready. Please bring a backup of your file on a memory stick to the meeting.
---
Tips for a Better Presentation:
Use a dark blue background, white lines and letters, and red surrounded by white for highlights.
Stay with the primary colors, do not use blended colors such as gray or mauve.
Use white or yellow bullet points.
Do not use red lettering.
Change numbers to pictures – whenever possible use graphs.
When using diagnostic images, place arrow to show the important features.
Show conclusions at both the beginning and the end of the presentation.
Use an outline for case presentations.
Limit verbiage. Use "6 x 6" rule. Use no more than six words across and six lines down of information.
Do not use the laser pointer to draw circles and repeatedly underline your slide. Simply point at the projected feature and then turn the pointer off.
If you have to apologize for a slide, do not use it.
Publication & Presentation of Accepted Abstracts
Abstracts selected for presentation will be available in the annual meeting materials, both print and digital, and are published online. At this time, your abstract and all information will become a matter of public record and may be referenced by WSAUA, media relations staff, and others. Please review the abstract licensing agreement/copyright policy below for more information.
Copyright Regulations
• The submitter acts on behalf of all co-authors and in submitting an abstract, transfers to Western Section of the American Urological Association (WSAUA) the copyright and all other rights in the material comprising the abstract if the abstract is accepted. Co-authors reserve the following: All proprietary rights other than copyright, such as patent rights; and the right to use all or part of the abstract in future works of their own.
• WSAUA, as holder of the copyright of the accepted abstract, reserves all rights of reproduction, distribution, performance, display, and the right to create derivative works in both print and digital formats.
Copyright Policy
Abstracts should not include libelous or defamatory content. Material presented in abstracts should not violate any copyright laws. If figures/graphics/images have been taken from sources not copyrighted by the author, it is the author's sole responsibility to secure the rights from the copyright holder in writing to reproduce those figures/graphics/images for both worldwide print and web publication. All reproduction costs charged by the copyright holder must be borne by the author.
Authorization to Record
Authors and Presenters grant to WSAUA and their vendor the right to audio record thier presentation and/or use of associated material (PowerPoint etc) for use in the publishing of event-based materials for/from the distribution in any media format on behalf of the WSAUA and agree that they shall receive no compensation for this recording.
General Terms and Policies
• All abstracts presented at the WSAUA Scientific Sessions must conform to the eligibility criteria listed above.
• The WSAUA Program Chair will determine presentation time and format for all accepted work, based on the topic and relationship to others submitted.
• All presentations and question-and-answer periods will be in English. If presenters need assistance in understanding or responding to questions in English, they are encouraged to have a member of their research group assist them.
• Each presenting author is required to comply with the WSAUA Disclosure Policy and is expected to disclose to the audience any real or apparent conflict(s) of interest that may have a direct bearing on the subject matter of the continuing medical education activity. This pertains to relationships with pharmaceutical companies, biomedical device manufacturers, or other corporations whose products or services are related to the subject matter of the presentation topic.
CLICK HERE FOR MORE INFO AND FAQs
• Presenters are required to make disclosure of any financial interest/arrangement or affiliation with any organization(s) that could be perceived as a real or apparent conflict of interest in the context of their presentation subject matter. Disclosure information collected during the submission process will be published in WSAUA's final program materials. To be in compliance with this policy, oral presenters must disclose at the beginning of their presentation. Poster presenters must include disclosure information on their posted presentation materials.
• Any additional or revised guidelines for abstract presentation will be provided to presenting authors of accepted abstracts in their notification email.
Tips for virtual or hybrid meeting formats
Best practices for speakers for a successful virtual presentation:
There are two parts: 1) your pre-recorded presentation and 2) your live Q&A via Zoom with Moderators and Audience
Presenters should have good sound. Problems with sound are easily fixed. If you plan to present regularly, invest in a USB microphone like the Blue Yeti nano.
Try very hard to get a wired connection to the internet. WiFi has error correction which causes delays and stuttering a good portion of the time. Wired connection are MUCH more consistent and professional.
You should have a clean uncluttered background without any windows. Using the meeting themed background during your Zoom is encouraged.
Do not play music in the background.
You should raise your laptop camera up even with your eyes if possible so we are not looking up noses or at ceiling fans spinning over heads. The simple solution is to put books under your laptop.
You should have as much light in front of you as possible. A large lamp with a white lampshade directly behind your laptop is a great solution.
Playback and test your video paying close attention to the sound quality.
Register for a Zoom account so we can identify you when you are presenting or moderating on zoom.
Familiarize yourself with Zoom app if not already.
Make sure you have the Zoom link email - this is personal to you only and allows access to the speakers gallery.
Be sure to mute your microphone and camera until ready to speak.
Keep the chat box open on your Zoom panel - Q&A will be there.
Lastly, be sure to register for the convention on the Whova app so we can find and communicate with you and become familiar with it as it will be the HUB of the virtual meeting.